Bristol council halts hunt for deputy chief executive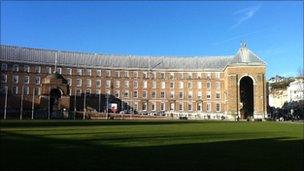 Bristol City Council is no longer hiring a new deputy chief executive.
The Liberal Democrat-led authority had started a recruitment process to fill the £130,000-a-year post, which had been vacant since August.
A spokesman said the strategic director of neighbourhood services will continue to undertake the responsibilities for the "foreseeable future".
Barbara Janke, the authority's leader, said the management team would also be shrunk from six to three.
She added the move to slim management at the city council followed responses from the public.
"With the talented staff already in place in the council, we've decided now instead to share the workload internally.
"The more money we save on overheads and management, the more we're able to protect front-line services to the most vulnerable people in the city."
Jon House, the former deputy chief executive, left to take up the post of chief executive of Cardiff Council.
Related Internet Links
The BBC is not responsible for the content of external sites.