Hotel's '10 minutes from airport' advert is changed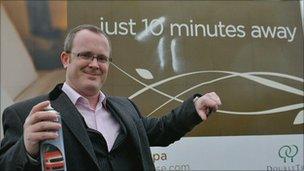 A hotel near Bristol which was told it could not advertise itself as being 10 minutes away from the city's airport has altered its sign with spray paint.
The ASA said a billboard outside Bristol Airport for the Cadbury House Hotel in Congresbury was misleading, after receiving one complaint about it.
The 20ft x 10ft (6m x 3m) billboard was changed with the number 10 crossed out and 11 painted in its place.
Half of test journeys made to the airport took less than 10 minutes.
In its defence of the claim the Sanguine Hospitality Management Company, which runs the hotel, submitted 10 sample journey times to the ASA.
Of those, half took 10 minutes or less and all had taken place either late at night or early in the morning.
Sanguine also pointed out to the agency that the journey to the hotel in North Somerset was possible in five minutes by helicopter and that a lot of its guests arrived this way.
In its adjudication the ASA said: "We understood the journey, at most times of the day, would take longer due to traffic.
"We noted the ad was displayed on the side of the road leaving the airport and considered that customers would infer that the claim related to journey time by road.
"Because we had not seen evidence that the average journey time by road, for the greater part of the day, would be 10 minutes or less, we concluded that the ad was misleading."
The ASA decided the ad breached two Committee of Advertising Practice Code rules and concluded that it "must not appear again in its current form".
Related Internet Links
The BBC is not responsible for the content of external sites.