UWE staff in Bristol to strike over restructuring plans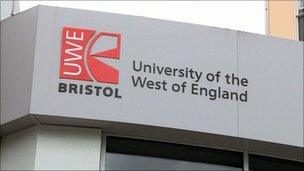 Academics at the University of the West of England (UWE) near Bristol have gone on strike over plans to restructure.
Two thirds of members of the University and College Union (UCU) voted for the action.
The union said proposals to cut senior posts have been rushed through and would mean academics will have to apply for their own jobs.
The university said it had been able to avoid compulsory redundancies and wanted to continue to talk to the UCU.
UCU regional official, Philippa Davey, said they were still willing to come to a compromise with management.
"Strike action is always a last resort but the actions of UWE's management has left us with little option.
"Its insistence on rushing through proposals that will affect the jobs of hundreds of staff has forced our hand. The university has refused to allow us the time needed to make sure the plans are fair."
A statement from UWE said they were looking to "change from 288 academic managers to 250".
"We are continuing to talk to UCU on a resolution to the concerns raised," the statement added.
Related Internet Links
The BBC is not responsible for the content of external sites.