Petition to support Elmfield School for Deaf Children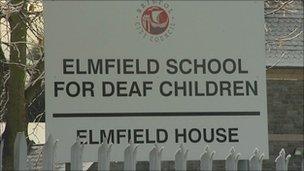 A petition to keep open a school which caters for children with hearing problems has gained more than 4,000 signatures.
Bristol City Council wants to replace Elmfield School for Deaf Children with "specialist resource bases".
The council said the number of applications for places at the school had dropped.
As part of a campaign by Elmfield, they have e-mailed city councillors photos every day showing life at the school.
Tessa Munt, the Liberal Democrat MP for Wells, warned that closing the school would have consequences for its pupils.
"What will happen is we'll isolate those young people here and then they become a cost to society later on because they are outside the general running of things.
"It'll cost us an awful lot more to pick up those lives."
Bristol North West's Conservative MP, Charlotte Leslie, is also organising a meeting with children's minister Sarah Teather to discuss the planned closure.
A statement from Bristol City Council said it wanted to give more help to children in other schools.
"New proposals aim to increase support within mainstream schools and create more 'resource base' provision for families," it said.
"The number of applications for places at Elmfield School has declined over the last few years."
The current consultation on the council's overall strategy closes on 11 February and if they decide to close Elmfield a further statutory consultation would have to be carried out.
Related Internet Links
The BBC is not responsible for the content of external sites.