Tutor remembers Jo Yeates as exceptional student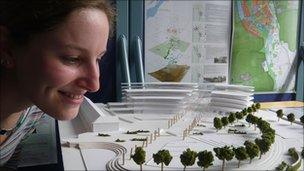 Jo Yeates has been remembered as an exceptional and model student on the day her body is laid to rest.
Her work will be used to inspire future students, said the leader of the landscape architecture course she graduated from just five months before she was discovered dead in a lane near Bristol.
David Booth, who leads the post-graduate course at the University of Gloucestershire, painted a picture of 25-year-old Jo as friendly and positive, extremely talented but modest.
"As soon as she pinned her work up she kind of sidled off and disappeared," he said.
Mr Booth, who only taught Jo once or twice a week, said she had made a huge impression during her year at the university.
"I've used the word model student before. I don't think that's flattering her too much. She was gifted," he said.
"It's not often you can say that about a student so early on, especially with only one year of study, but it's clear that she was already producing a very professional standard of work and to reach that level of competence at such a young age and to have a thorough grasp of the scale of work we ask them to address is exceptional.
"Jo wasn't a particularly gregarious person in a classroom environment. She was confident because she was good at what she did, but she did tend to be on the quiet side. She wouldn't, for example, volunteer to put her work up first.
"She put her work up and she would present very well, but she was a little bit more retiring than you would expect of someone with those skills and qualities.
"I know, for example, that she may well not have taken all this work home, and we are going to give some of this work back to her parents.
"They didn't come to the end-of-year show which is a great shame because they would have seen that work there."
Mr Booth said Jo would have had a fantastic future ahead of her.
She was already working full-time for Bristol firm BDP while she studied.
"I don't think there's any doubt that anyone who came into contact with her work knew that she was someone who would shine very quickly in a professional office and I know her colleagues in BDP recognised that.
"On a personal level, it's a shame I didn't get to engage with her more as a tutor. She lived away and worked in Bristol full-time which again is an achievement - to work full-time and then still produce this is phenomenal."
He said that Jo's work had already been used to illustrate best practice to current students.
"The downside of that is that work of this quality is actually quite daunting for some students to aspire to. They look at that and think 'how am I going to achieve that?'
"It's a very high standard to set, but it's good to have those standards for people to aim at.
"I hope this continues to celebrate her achievements, but also to inspire others. Regardless of the tragedy we would use the quality of someone like Jo's work really to set the standard for others."
Related Internet Links
The BBC is not responsible for the content of external sites.