Bristol wedding reception to be held at KFC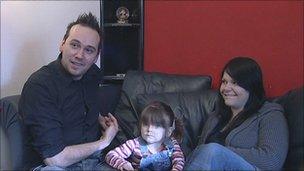 A Bristol couple will be celebrating their wedding nuptials on Saturday with a bucket of chicken and fries.
After tying the knot at the city's register office, Gareth Pritchard and Kalli Buchan will be having a reception for 30 family and friends at KFC.
The wedding party will walk to the restaurant in their full regalia.
A fast food reception has become a family tradition for Miss Buchan whose parents celebrated their wedding with Egg McMuffins at McDonald's in 1989.
Mr Pritchard said they came up with the idea simply because it was different.
He said: "I've spoken to the manager and he's informed all the staff and they seem ecstatic at the idea of us being there. I think it's going to be a really fun day.
"It's only five minutes from the register office and I think 30 of us walking there will be quite an amazing scene to see on a Saturday afternoon."
Miss Buchan added: "We're getting married at Bristol Register Office at 2pm and plan to be at KFC at 3pm because that's the end of their busy period.
She said her friends had laughed when she told them: "They think it's a cool idea. I'll probably have a Fully Loaded meal."
Miss Buchan's parents, Davy and Madalene, said they had their reception at McDonald's because of financial necessity.
But they said they were happy with the couple's choice of venue.
Mr Buchan said: "We walked from the old register office to McDonald's and people were coming up congratulating us in the street. A group of Americans said, 'my God we thought you English were so reserved'.
"We stopped off and went into Superdrug on the way in our full outfits with the wedding party then carried on."
Mrs Buchan said: "It's nice to carry on the tradition I suppose seeing as we started one. I'm looking forward to the chicken."
Related Internet Links
The BBC is not responsible for the content of external sites.