TV advert in south west to 'dispel myths' of roll-ups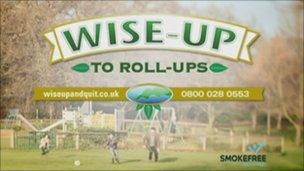 Anti-smoking campaigners have begun a television advertising campaign in the south west of England to highlight the risks of smoking hand-rolled tobacco.
Smokefree South West wants to "dispel the myths" which they say have built up around roll-up cigarettes.
Findings from the organisation's research showed that smokers of hand-rolled tobacco believed it was "more natural" and a "real art form".
Smokefree South West is funded by the Department of Health and 14 local PCTs.
Regional director of public health Gabriel Scally, who is also the spokesman for Smokefree South West said: "The majority of hand-rolling tobacco smokers believe that 'rollies' represent a healthier option.
"They have a strong belief that they contain fewer additives and are grown from an organic source. This is simply not the case.
"In fact, the same manufacturers who make cigarettes such as the west country's own Imperial Tobacco also produce pouches of rolling tobacco.
"Hand-rolled cigarettes present the same kinds of health risks to smokers as manufactured cigarettes, such as cancer, impotence, stroke and lung disease."
Jean King, from Cancer Research UK, said: "This campaign dispels the dangerous myth, believed by many smokers, that hand-rolled cigarettes are more 'natural' and so less harmful than manufactured ones.
"Smoking hand-rolling tobacco is just as harmful as cigarettes bought in packets."
A spokesman from Imperial Tobacco in Bristol said: "We do not make any health claims about our products.
"By law, hand rolling tobacco products display the same government health warnings as cigarettes."
Smokefree South West works with the public sector and voluntary groups concentrating on changing policy and legislation and encouraging people to quit smoking.
The advert will be shown across Bristol, Gloucestershire, Somerset, Wiltshire, Dorset, Devon and Cornwall.
Related Internet Links
The BBC is not responsible for the content of external sites.