Lions of Bath sculptures raise £60,000 for charities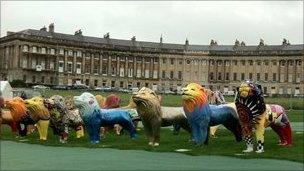 An auction of decorated life-sized lion sculptures which were on display in Bath has raised almost £60,000.
Money raised by the Lions of Bath project will be donated to five good causes including local organisations and international wildlife charities.
Two years ago a similar project featuring 106 King Bladud's Pig sculptures raised £200,000.
All but three of the 100 decorated lions sold at auction, with organisers blaming the recession for the downturn.
"We really didn't think we were going to make £200,000," said co-organiser Megan Witty.
"We didn't raise as much as we'd hoped but nearly £60,000 is a huge amount for local charities."
The largest grant of £27,000 will fund a full-time worker at the Bath charity Off The Record which helps young carers.
The international wildlife charity, the Born Free Foundation, has been awarded £15,000 to build lion-proof enclosures in Kenya, which help protect people and livestock.
Bath's Quartet Community Foundation is receiving £13,500 to give out as grants to community youth projects.
A £3,000 donation has been made to the Mayor of Bath's Relief Fund.
The African wildlife charity Tusk has been given £1,500.
"Apart from fundraising, which is not easy in the current economic climate, Lions of Bath has been a really worthwhile project, bringing businesses, arts and the community together," said Ms Witty.
The remaining lions, including one called Wayne Roar-ney, are still up for sale.
Related Internet Links
The BBC is not responsible for the content of external sites.