Bristol Rovers fans form 'Black and Gold' protest group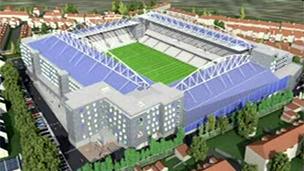 A group of Bristol Rovers fans have started a protest group over the way the club is being run.
The Black and Gold Campaign said it wanted the Rovers board to reveal when a new ground would be built and how much debt the club would face.
Concerned fans are being asked to wear black and gold scarves to games and a day of protest is planned on 5 March.
Bristol Rovers, who are bottom of League One, said the group was "welcome to come to us with any grievances".
Members of the group chose the black and gold colours because they were worn by the Black Arabs football team, which went on to become Bristol Rovers.
The group's main concern is the status of a plan to redevelop the Memorial Stadium, for which planning permission was granted in 2007.
The campaign, which is running on Facebook and online football forums, was started by club fan Tom Cook-Davies.
"If it's not going to go ahead, we're all reasonable - Rovers fans are known for their patience - just let us know," said Mr Cook-Davies.
He and other supporters are also worried the club's declining fan base could mean an uncertain future for the football team.
"The chairman said a while back that the club was 'totally unsustainable' when crowds were 7,000," Mr Cook-Davies told BBC Radio Bristol.
"Crowds are now down pretty much to the 5,000 mark and simple maths tells you that the club just can not continue like that."
Mr Cook-Davies said he wanted the Rovers board to give fans more information about the club's financial situation, after rumours it was facing administration.
"There is no fear of the club going into administration whatever division we play in," the online briefing read.
The club said in a statement: "No official approach has been made to the club by this group, but they are welcome to come to us with any grievances.
"Most of our fans have been very supportive of the team at this difficult time on the pitch."
"It's imperative that all fans get behind the team because they need the support, said Mr Cook-Davies.
"And it's imperative that we try and stay in this division, which is looking tough at the moment."
Related Internet Links
The BBC is not responsible for the content of external sites.