Arrests in south Bristol anti-social behaviour crackdown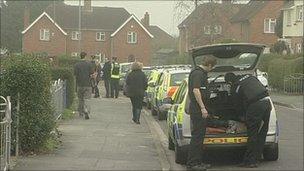 Eleven people have been arrested in a crackdown on anti-social behaviour in south Bristol.
Avon and Somerset Police and the city council carried out the operation in Filwood on Friday.
The eleven were arrested on suspicion of offences including drug dealing, theft and harassment.
The operation also saw officers attempt to reassure residents and speak to known troublemakers about their behaviour.
One 28-year-old woman from south Bristol, who did not want to be named, said she had left her home because of anti-social behaviour.
She said: "We had a lot of problems with gangs accumulating in front of our house.
"They'd sit on our gates and on the walls.
"There would be days when I wouldn't be able to go to work, I'd have to phone in sick because I didn't want to have to go out and ask them to move."
She said the family been threatened with violence, and a gang had thrown lumps of concrete through the front window while her son had been looking out.
She also said she felt neighbours could have done more to help.
"If one more family would have spoken up it would have been a different outcome," she added.
Sgt Nigel Colston said most of the arrests were made as a result of information from the community.
"We've been working hard with the residents of Filwood for some time to tackle anti-social behaviour related issues," he added.
Related Internet Links
The BBC is not responsible for the content of external sites.