Clifton Suspension Bridge toll rise 'inevitable'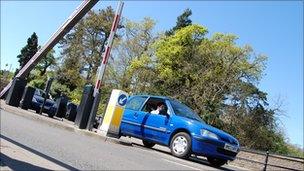 The chairman of the trust which runs the Clifton Suspension Bridge has claimed tolls will "inevitably" rise to cover the cost of repairs.
The latest round of work on the Bristol bridge is due to start soon on the Leigh Woods side where it will be cleaned and erosion damage repaired.
The work is due to cost £420,000 and is part of an £8m repair programme.
Trust chairman Dayrell McArthur said increased tolls were needed to pay for "important maintenance projects".
It comes after the clerk to the trustees suggested in November that a toll rise to £1 would not be excessive.
Any proposal to increase the toll would have to be approved by the Department for Transport with the support of Bristol City Council and North Somerset Council.
The toll for motor vehicles has been 50p since January 2007.
Mr McArthur said the repairs were being funded through tolls.
"Although it is essential to extend the life of the bridge and prevent deterioration, the trust receives no outside help towards its costs," he said.
"Our stone conservation work forms part of a much bigger programme of important maintenance projects planned to take place over the next 10 years.
"Therefore it is inevitable that we will have to increase the cash tolls paid by drivers in the near future."
Related Internet Links
The BBC is not responsible for the content of external sites.