Honeymoon death accused Shrien Dewani out of hospital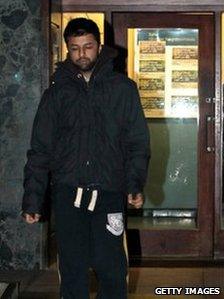 A man accused of ordering the murder of his wife during their honeymoon in South Africa has been discharged from hospital, his family has said.
Shrien Dewani, who has been suffering from clinical depression and a stress disorder, was admitted to Bristol Royal Infirmary on Sunday.
His family said he had suffered a reaction to his medication.
Mr Dewani, 31, has denied any involvement in the death of his Swedish wife Anni, 28.
South African authorities want him to be extradited to stand trial accused of ordering the shooting of Mrs Dewani.
Mr Dewani, who is on bail, was unable to attend a recent court hearing because he is suffering from depression and severe post-traumatic stress disorder.
His spokesman, publicist Max Clifford, said: "He was released yesterday. He is out and he's at home. I know he is feeling better and he's out of hospital."
Mr Dewani had been married for two weeks when his wife was killed.
The couple's taxi was hijacked on 13 November in Cape Town as they travelled through the Gugulethu township.
Mrs Dewani's body was later found in the abandoned car. Mr Dewani had been released unharmed.
Mziwamadoda Qwabe and Xolile Mngeni are charged with murder, kidnapping and robbery with aggravating circumstances.
They are due to appear before Wynberg Regional Court in Cape Town on 25 February.
An extradition hearing for Mr Dewani has been set for 3 May at Woolwich Crown Court in London.
Related Internet Links
The BBC is not responsible for the content of external sites.