South Africa honeymoon murder accused denied bail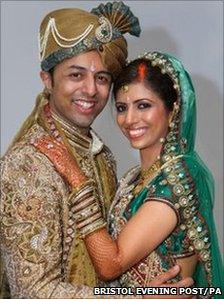 A man charged with murdering a woman during her honeymoon in South Africa has been denied bail.
Anni Dewani, 28, was found shot dead in Cape Town after being kidnapped. Her husband Shrien Dewani was released unharmed.
Mziwamadoda Qwabe, 25, and Xolile Mngeni, 23, are charged with murder, kidnapping and robbery with aggravating circumstances.
Mr Qwabe's bail application was denied at court in Cape Town on Friday.
The trial of Mr Qwabe and Mr Mngeni was postponed until 1 June for further investigation.
Mrs Dewani, from Sweden, had been married to Mr Dewani 31, from Westbury-on-Trym in Bristol, for two weeks when she was killed.
The couple's taxi was hijacked on 13 November in Cape Town as they travelled through the Gugulethu township.
Mrs Dewani's body was later found in the abandoned car. Mr Dewani had been released unharmed.
Taxi driver Zola Tongo, 31, from Bothasig, Cape Town, has been sentenced to 18 years in jail for murder, kidnapping, robbery with aggravating circumstances and perverting the course of justice.
He told the Western Cape High Court he was offered 15,000 rand (£1,400) by Mr Dewani to kill his wife. Mr Dewani denies any involvement in the killing.
South African authorities want Mr Dewani to be extradited to stand trial accused of ordering the shooting of Mrs Dewani.
Mr Qwabe has claimed in a statement released by police that the hijacking which led to Mrs Dewani's death was staged.
In his statement, he said he had agreed to take part in a staged hijacking and robbery.
At a hearing on Thursday, a London judge decided Shrien Dewani can remain on bail at his home.
The South African authorities had argued that he should have his bail revoked after he tried to kill himself.
Belmarsh Magistrates' Court heard that Mr Dewani had taken a cocktail of 46 pills.
Julian Knowles, representing Mr Dewani, said his client had not tried to kill himself.
Judge Riddle adjourned the case until 15 March at the same court when Mr Dewani's bail will be reviewed again.
Related Internet Links
The BBC is not responsible for the content of external sites.