BBC West considers new headquarters options in Bristol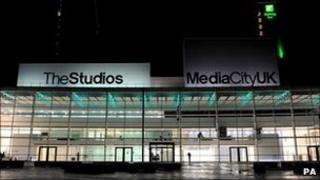 The BBC in Bristol has enlisted the help of property consultants to help it find new headquarters in the city.
At present it occupies a number of listed buildings in the Clifton area of the city which are costly to maintain.
Bristol City Council has said it supports the idea of a building similar to MediaCityUK at Salford, Greater Manchester.
A BBC spokesman said any project would only go ahead if it made financial sense in the long term.
The corporation has appointed property consultants Lambert Smith Hampton to advise on alternative sites.
Spokesman Peter Musgrove said a wide variety of locations were being looked at both in and out of the city - including staying at its existing Whiteladies Road HQ.
"The current site is no longer fit for purpose and expensive to maintain - a purpose-built building could offer a number of savings.
"Many of the buildings in Whiteladies Road and Tyndalls Park Road are listed and facilities duplicated.
"A new site would include open-plan offices which are a more efficient use of space and meet accessibility legislation," he said.
A delegation from the council, BBC West, and industry representatives recently visited Salford's MediaCityUK.
'Significant investment'
A BBC spokeswoman said: "We haven't yet taken the decision to move but it is clear that the current site is in need of substantial updating and is not best placed to serve our needs in a digital age.
"We have very clearly said that any decision to move will be made only if it delivers value for money to the licence fee payer and staying on the existing site is still an option under consideration.
"It would be premature to speculate on any potential sites given that that we have not made the decision to move."
Bristol City Council's Liberal Democrat leader Barbara Janke said the hub would show the world the city was a leading creative and digital centre.
Ms Janke added: "The council is therefore committed to doing all it can to make this project work, but we will only be able to achieve this goal with significant private sector investment.
"It would also build on the importance of the BBC's presence in the city," she said.
The BBC has been criticised for its spending on major new building works in recent years. Last year it was revealed the extension of Broadcasting House in central London had gone over budget by about £100m while Pacific Quay in Glasgow, which opened a year late in 2007 cost £62m more than planned.