Ashton Gate Sainsbury's supermarket plan is approved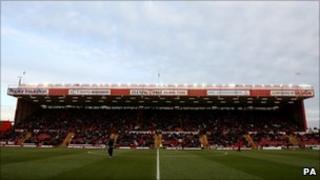 Plans for a Sainsbury's supermarket at Ashton Gate in Bristol have been approved despite a wealth of opposition from local residents and retailers.
Sainsbury's can now build on Bristol City Football Club's ground, subject to a legal agreement and conditions.
Planners had recommended the scheme be rejected because of the negative impact on traders in nearby Bedminster.
The football club was relying on the £20m income from the sale of Ashton Gate to partially fund a new stadium.
Out of nine councillors on the development control committee, six voted yes, one voted no and two abstained.
Before a final decision can be made, the application has to be sent to central government to consider whether the Secretary of State should become involved.
The new 30,000-seater stadium at nearby Ashton Vale, which has already been granted planning permission by the council, would cost £92m.
Five new councillors helped decide on the plan after some regular members of the committee stood aside because of abuse they suffered at a previous hearing.
In July, the original plans for what would be the South West's biggest supermarket were rejected before revised plans were submitted in November.
Campaign group Stop Sainsbury's had said it was worried by the prospect of extra traffic, including lorries, on roads in the area.
It said the development would also be a threat to jobs in other nearby stores.
Bristol Civic Society also objected saying there was "no material difference between the first and the second applications" for a new store.
A study by property consultancy GVA, which was commissioned by the city council, found the negative retail impact of the store on nearby Bedminster would outweigh any benefits.
However, Sainsbury's said the report did not take into account benefits of the proposal such as investment, job opportunities and regeneration.