Bath bridges over Kennet and Avon Canal are restored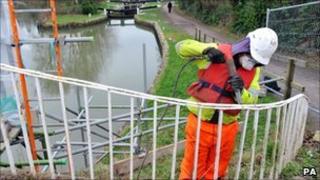 Two bridges that span a canal in Bath are being returned to their former condition.
The 14-week British Waterways project to repair the pedestrian bridges over the Kennet and Avon Canal at the Bath flight of locks is costing £190,000.
Wash House Bridge will be removed from site to be given a thorough makeover while Bath Top Lock Bridge will be restored in situ.
Both are described as excellent examples of 19th century iron work.
'Very elegant'
David Viner, heritage advisor for British Waterways, said: "The Bath flight of locks is a wonderful hidden gem.
"There are beautiful views of the city, whilst the canal has a charm of its own, showcasing our working waterway heritage.
"The two bridges are great examples of how canals were constructed to mirror the environments through which they pass.
"The iron work is wonderful and has a very elegant air to it, matching the surroundings of Bath."
The bridges were the first two structures to be manufactured in the Stothert & Pitt Foundry, which went on to employ thousands of people in the city until the late 1980s.
Mr Viner added: "These historic wrought and cast iron footbridges will be restored to their former glory using top quality heritage skills and techniques.
"The listed bridges add real character to the canal in this area, and we hope that waterway users will be pleased to see them getting the attention they deserve."