Death of Bristol care home resident 'natural causes'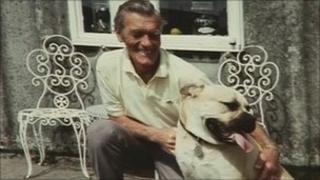 A resident at a Bristol care home where admissions have been suspended died of natural causes, an inquest has heard.
But the family of John Bewley said they would continue to seek legal action against Mimosa Healthcare, which runs Kingsmead Lodge, despite the verdict.
The Care Quality Commission said in December that residents were not getting safe or appropriate care there.
A spokesman for Mimosa said the well-being of residents was of paramount importance.
Mr Bewley, 84, died shortly after being transferred to hospital from the home in Shirehampton, the inquest in Flax Bourton heard.
His family had been particularly concerned that he was becoming malnourished and dehydrated.
'Food in lap'
A pathologist told the inquest that Mr Bewley was dehydrated and thin, but that was because of his lung cancer.
His daughter, Kim Saint-Carreyett, said: "He would have a cup and saucer in front of him which he couldn't even pick up.
"I would see staff scurrying, taking that cup and saucer away, or any food, without documenting that they had taken it away.
"I asked them if they could please support my dad with his drinking. They assured me they would. I took their word.
"Then I would go in again and find my dad in the same predicament. One day I went in and the food was actually on the floor and in his lap."
'Express sympathies'
Mimosa has said it will investigate that allegation.
The spokesman said: "I would like to express our sympathies to the Bewley family on their loss.
"What I do believe the medical evidence has demonstrated again is that Mimosa put the health and wel-being of all the residents in their care as of paramount importance.
"All of our staff strive on a daily basis to make sure that we provide our residents with care of the quality not only we expect ourselves but that the residents expect."
Following last year's inspection, Mimosa was told to take immediate action to improve standards.
Inspectors will return unannounced at a later date to check whether the improvements have been made.