Taxi permit plan for Bristol Temple Meads station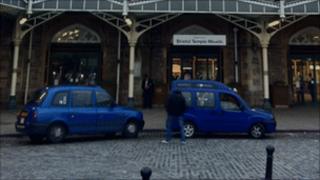 Taxi drivers who pick up passengers at Bristol Temple Meads railway station are to be asked to pay for a permit.
Drivers will have to pay an annual fee of about £300 a year so they can drive to the front of the station.
Pat Jones, from the Bristol Taxi Association, said drivers had not paid fees at the station since 1974.
Dan Panes from First Great Western said the plan for a fee, which is already in place at Bristol Parkway and Bath Spa, is at an early stage.
Mr Panes said the plan would help to cut down congestion on the station approach, which is owned by First, and make the relationship between the firm and the taxis formal.
"Throughout our network, all stations with taxi ranks outside generally have a system in place where we allow taxis to come in and pick up - and they pay for that privilege.
Waiting times
"What happens at the moment is station managers tend to negotiate these on a local basis and that means we get wildly different price ranges.
"And we've got no contractual obligations in there either on our part or the taxi drivers' part."
Ms Jones said many big stations, such as in London, do not employ a permit system and that introducing one would lead to problems for passengers waiting for taxis.
"If you limit the number of taxis picking up then you're going to go back to a system where people wait and excessive amount of time for taxis."
Councillor Gary Hopkins said he wanted to make sure the fee charged by First Great Western was not "over the top"
"At the moment there isn't a good facility there and it does lead to congestion, so we're trying to negotiate with the company to make certain that they get a smaller fee and a better facility."