Plan backed for derelict Westmoreland House in Bristol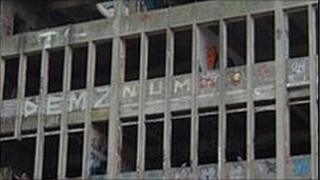 A plan which could see the derelict Westmoreland House in Bristol bought by a compulsory purchase order has been approved.
The proposal, which could see money from the Homes and Communities Agency used to buy the building, was backed by councillors at a meeting on Thursday.
The front of property features a Grade II listed 19th century building.
Comer Homes bought the plot in 1989 but has not been able to agree plans for its development with the city council.
Councillor Anthony Negus said "unrealistic ambitions" had held up previous plans for development at the site.
"We've got a listed building on the front, the Carriage Works, which is in a very sorry state," he said.
Mr Negus added they wanted to use the building as a retail centre which could help improve the Stokes Croft area.
"What goes on behind that [in the rest of the building] that is still up for grabs," he added.
Comer Homes has not yet responded to BBC requests for a comment.