Community grant helps Bristol's Windmill Hill City Farm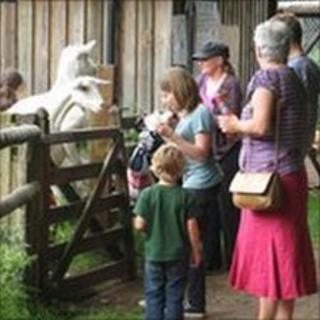 A cash-strapped city farm in Bristol has had help to repair a leaky ceiling in its community play centre.
The Sita Trust donated £7,458 to Windmill Hill City Farm, which was threatened with closure in August 2009.
The team at the farm in Bedminster used the money to replace the hanging ceiling and lighting.
Vadna Chauhan, who manages the centre, said: "We've now got a friendly, welcoming and dry space for our users to meet in."
She added: "It will be used for our parent and toddler groups, creche service and nursery children.
"It's also a fantastic space for children's parties and events which we can hire out at weekends."
In 2009, the farm successfully appealed for to help raise £50,000 after local people and organisations, including Bristol-based Aardman Animations, rallied to its aid.
Windmill Hill's operating costs are £1m a year, 30% of which must be found by the farm itself.
The Sita Trust provides grants to community organisations in England, Scotland and Wales through the Landfill Communities Fund.
Since it was founded in 1997, the trust has supported more than 2,800 projects to a combined value of more than £76m.