Tourist group wants more tall ships in Bristol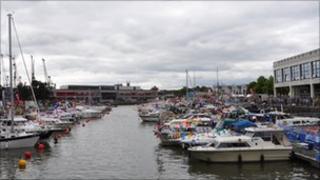 Tourism group Destination Bristol wants to encourage more tall ships to visit the city in a bid to boost visitor numbers.
The historic ss Great Britain is moored on the city's harbourside and other ships are maintained there.
Project manager Zoe Sear said the harbourside was important because the city's history was focussed around it.
"We are trying to attract other smaller tall ships in and this makes for a more interesting harbour," she said.
"You can walk around and see the interesting ships, some of which are hundreds of years old, and there's something interesting and romantic about them."
Howard Lucus, the captain of the tall ship the Irene, said word of mouth helped spread the experiences of visitors to the harbourside.
"It certainly attracts people. You get a little bit of sunshine and people come down to the docks and they walk about and see some tall masts," he said.
"They tell their friends what they've seen and more people come down."