Railway Locomotive Works in Bristol to get blue plaque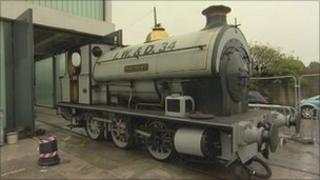 A blue plaque is to be placed on a hotel which has been built on the site of the former Railway Locomotive Works in Bristol.
The factory was established in 1840 on Avon Street, near Bristol Temple Meads railway station, by Henry Stothert.
The first locomotive built there, Arrow, was used on the opening day of the Great Western Railway between Bristol and Bath.
The factory survived until the 1990s and was then demolished.
Locomotives from the factory were exported as far afield as Italy, Spain, the Netherlands, India and Australia.
But Henry Stothert's involvement in the factory was short-lived. Edward Slaughter, an engineer who had worked with Isambard Kingdom Brunel, joined as a partner.
Boom time
By the 1850s Mr Stothert was replaced by Henry Gruning, a well-known cricketer.
The Slaughter/Gruning partnership traded successfully until the 1870s when some 900 people were employed at the works.
But the depressed market in the 1870s saw the firm seek voluntary liquidation.
Edwin Walker, the manager of Bristol's other private locomotive builder at St George, resurrected the firm while parts of the site were used for paper production.
The company eventually moved from Avon Street to Fishponds in 1904.
By that time between 1,300 and 1,400 locomotives had been built on the site. Exact numbers are not known as many records have been destroyed.
The blue plaque proposal was suggested by the Bristol Railway Circle and will be unveiled on Friday by Bristol's Lord Mayor Colin Smith.