Abandoned Bristol boats to be auctioned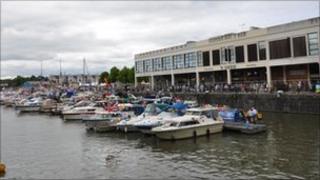 Abandoned boats which have been left on Bristol's harbourside are to be auctioned off.
The boats, ranging from canoes to narrow boats, have been moved into storage.
Harbourmaster Tony Nichols said the storage yard was now starting to becoming full and it was "time to pass them on to some new owners".
"Most of the small craft have been found floating in the harbour in the past three years," he said.
"For good housekeeping we removed them and put them in our storage yard waiting for the rightful owners to come and reclaim them.
"But as they don't reclaim and our storage yard is getting filled up we feel it's time to pass them on to some new owners."
Mr Nichols said he hoped the sale would help make the area look more attractive.
"The better looking the vessels there, the more it will drag people in.
"With them coming in and spending more money which will in turn increase the local businesses."