River Severn water supplements reservoir supply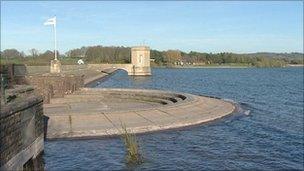 Water from the River Severn is being used to supplement supplies from reservoirs following a winter where rainfall was below average.
Bosses from Bristol Water acted because the levels at Chew Valley lake were found to be 20% lower than at the same point in 2010.
Usually the firm's supplies are made up of 50% from reservoirs near Bristol and 50% from the river.
But now they have increased their use of the river to 62%.
Jeremy Williams from the firm said it was "not something we do lightly because it's expensive".
He added the firm had been using the increased amount of water from the river since January and said it "gives them a buffer".
Annual rainfall for Bristol and Somerset in 2010 was recorded at 767mm - one of the lowest figures on record.
The company said it currently has no plans for restrictions such as hosepipe bans.
Related Internet Links
The BBC is not responsible for the content of external sites.