Bristol filmmaker teams up with award-winning comedian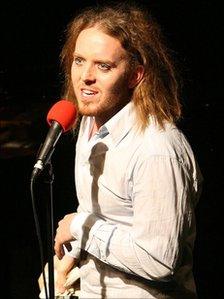 A filmmaker from Bristol is aiming to become an internet sensation after teaming up with an award-winning Australian comedian.
Dan Turner from Portishead has created a 10 minute animated film, Storm, which was written by, and stars, Tim Minchin.
It is about an argument between two people at a dinner party. One believes in science, whilst the other does not.
Storm was an independent project funded by the filmmakers and private donors. It was long-listed for the 2011 Baftas.
The movie, which took two years to make, started life as a beat-poem which Dan saw Tim perform on stage in 2008.
"We're lucky enough to have a mutual friend," Dan said.
"We went out for a bit of food with Tim, got him nicely drunk, and then asked if we could appropriate his material."
"We thought the internet was the best possible way to break new ground. To give someone something visual to look at, rather than saying 'listen to this 10 minute poem'.
"We wanted to get it out there in front of as many people as possible."
Tim Minchin, who is also a writer, actor and musician, is best known for his musical comedy and for performances on shows such as 8 Out of 10 Cats and Never Mind the Buzzcocks.
He said the topic of the film, which was an argument at a dinner party, had been "brewing and brewing for years".
"It's an accumulated experience; trying to work out when it's appropriate to actually have an opinion of any note at a dinner party.
"Dinner parties are by their nature meant to be these benign, diplomatic waltzes.
"I've got better at not ruining dinner parties but it does become harder and harder to keep your mouth closed when you become more passionate about the more out there beliefs.
"So I just eventually decided to write, as much as I could, the definitive discussion, in my head obviously, it's not definitive for anybody else."
Not only did Dan direct the film, he was also responsible for creating the animation.
"Over the last two years I've basically been sitting in my room, in my pants, drawing pictures of Tim over and over again," he said.
Related Internet Links
The BBC is not responsible for the content of external sites.