Essential gas works anger some traders in Clevedon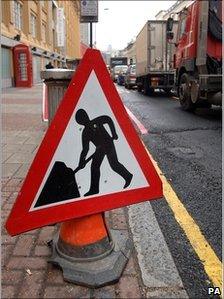 Traders in Clevedon said they had been left in the dark about a new £820,000 roadworks scheme which began this week.
The town faces 20 weeks of diversions, road closures and temporary traffic lights during the Wales & West Utilities work on the gas main.
The work includes installing more than 4,000m of new plastic gas pipe.
A company spokesman said residents and businesses had been informed by letter but some said they had no idea the work would continue throughout the summer.
"I'm a little bit annoyed," said Martin Young, who runs a pet store in the town.
"I've just done a shop refit and I've invested quite a bit of money. It's just unfortunate that it may affect us."
Mr Martin said he had received a letter from the utility company only after he had phoned them to find out what was going on.
"All the letter says is the date they were going to start the work. Nothing saying where the work was being carried out [or] what shops were going to be affected," he added.
Wales & West Utilities spokesman Neil Murphy said: "We have been working closely with the local council and I have contacted local residents and businesses in the immediate vicinity to notify them of the impending work.
"Businesses in the area will be open as usual and deliveries will be accommodated."
North Somerset Council said Wales & West Utilities had met all the necessary requirements to do the work and there was no reason to stop it doing so at this time.
You can find further information about the areas affected by the gas works on the Wales & West Utilities website.
Related Internet Links
The BBC is not responsible for the content of external sites.