Bristol hedgehog sightings surveyed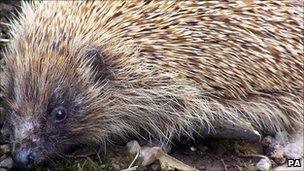 People are being asked to report hedgehog sightings in the greater Bristol area.
Avon Wildlife Trust is carrying out the project to compare findings with its original Hogline survey in 1988 when there were 3,500 sightings.
Spokesman Steve Micklewright said: "One third of our local hedgehog population has disappeared in 20 years."
He said Avon Wildlife Trust wanted to find out where they survive so they can try to "reverse this decline".
Mr Micklewright said the original project, which took place between May and October 1988, "helped prove that hedgehogs were very common across the region back then".
But he said figures from the British Hedgehog Preservation Society showed sightings had dropped nationally over the last two decades.
The new survey, which began on Tuesday, will last for a year.
"If you see hedgehogs, dead or alive, we need you to log on and report your sighting," Mr Micklewright said.
"It takes just a couple of minutes but will provide valuable survey data for the project.
"It's just as important for us to know where hedgehogs are not found, so you can report if you do not see them on the website too."
Related Internet Links
The BBC is not responsible for the content of external sites.