Bath Rugby Club's new plans to expand ground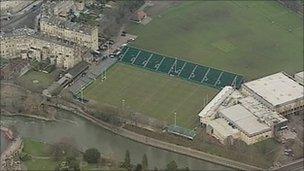 Bath Rugby Club has come up with a new proposal which it hopes will allow it to build a new stadium on the Recreation Ground.
The club wants to move about 40m further onto the ground, making room to rebuild the stand along the riverside.
In return, the club intends to give land at their training ground at Lambridge back to the city.
The Recreation Ground Trust has begun an eight-week public consultation on the plans.
Chris Watt, from the trust which administers the site, said: "We need their views about whether or not this small increase in the footprint for the rugby club, which secures them as a viable tenant, whether the compensating land and the additional facilities, are going to be sufficient to outweigh the negatives.
"We think it is and we hope the beneficiaries will agree with us."
If the public give the plans the go ahead, they will then be referred to the Charity Commission.
If the Commission agrees, the plans will go to Bath and North East Somerset Council for approval.
Previous plans by the club to redevelop the ground were turned down by the Charity Commission in 2009.
The Commission said at the time there were not sufficient benefits to the charity, but that it was open to accepting a revised proposal.
Nick Blofeld, the club's chief executive, said: "Lambridge works better than the previous suggestion of Firs Field.
"I think a lot of people in the city are big supporters of ours and what we plan to do is a minor improvement and increase in the scale of the stadium without disrupting the city too much."
Related Internet Links
The BBC is not responsible for the content of external sites.