NHS fraud Bristol dentist spared jail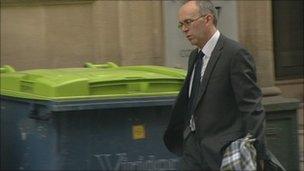 A Bristol dentist who defrauded the NHS out of £77,800 has been given a suspended jail sentence.
Jonathan Garston-Hunt falsely claimed some patients - including an ex-Premier League footballer and his father - were on benefits in order to get more money.
Hull City defender Liam Rosenior and his football media pundit father Leroy had no idea their identities were being abused by the dentist, the court heard.
Garston-Hunt, 53, also claimed for treating 17 patients who had died.
The dentist, who was being paid £623,000 a year by the NHS via two contracts, owned and practiced at surgeries in Stapleton Road, Easton, and North Street in Bedminster - both of which he has now sold.
The dentist was given a 12-month sentence, suspended for two years, and was ordered to carry out 300 hours of unpaid work. Garston-Hunt must also pay £5,000 costs within 14 days.
The £77,800 has already been recovered by the NHS.
He was paid £323,000 under one of his two annual contracts, to deliver 15,012 units of dental activity and said he made the fraudulent claims to keep the failing Easton surgery afloat.
A spokesman for NHS Protect, which investigated the case, said Garston-Hunt defrauded Bristol Primary Care Trust between March 2005 and November 2007 by submitting false claims.
He pleaded guilty to false accounting at a previous hearing at Bristol Crown Court.
The NHS spokesman said Garston-Hunt, who is currently suspended by the General Dental Council, claimed Liam Rosenior was on income support and his father was receiving Job Seeker's Allowance.
He also used names of patients he was no longer treating to make claims.
Mick Hayes, anti-fraud lead at NHS Protect, said: "This conviction serves as a warning to other contractors who might contemplate defrauding the NHS and the tax payer.
"All reports of fraud against the NHS are taken seriously and, whenever appropriate, fully investigated.
"We thank the Bristol Primary Care Trust for working with us on this case. NHS Local Counter Fraud Specialists are increasingly carrying out many of the investigations themselves with our national level support and guidance."
Related Internet Links
The BBC is not responsible for the content of external sites.