Bristol's Filton airport to close from end of 2012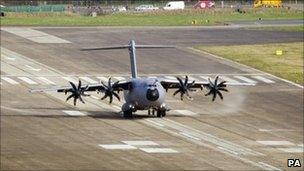 Bristol's Filton airport is to close from the end of 2012 following a review of its commercial and economic viability.
A BAE Systems spokesman said all users of the airfield had been informed and the airport's 19 employees had been told of the closure.
Jack Lopresti, Conservative MP for Filton and Bradley Stoke, said he was disappointed at the news.
"The closure means the end to over 100 years of use as an aerodrome," he said.
'Employment opportunities'
"It's a huge part of our aviation history. We must of course respect and honour the past but always keep looking to the future, which Filton has always done and thrived.
"Clearly the priority is to make sure that the airfield's closure does not have an adverse affect on the local economy and the South West's standing as the home to the British Aviation Industry," Mr Lopresti added.
The airfield, which opened in 1910, is mainly used for corporate passengers, training flights and aircraft maintenance operations.
It is also used by the police helicopter operated on behalf of Avon and Somerset police and Gloucestershire Constabulary.
A separate helicopter run by the Great Western Air Ambulance Charity is also based at the South Gloucestershire site.
Bristol's main passenger airport, at Lulsgate, North Somerset, is not affected by the decision.
BAE Systems would not comment further but in a statement said it regretted the impact it would have on its 19 employees.
"We will work with them to explore employment opportunities.
"We recognise the importance of Filton airfield to the local residential and business community and understand the concerns its closure may have," the company spokesman added.
Aircraft maker Airbus - which has a site at Filton and uses the airfield - said it had been in contact with BAE over the decision and was working to ensure a smooth transition to new working systems and practices.
A spokesman said: "We're confident that once the airfield closes we will have in place a range of effective mitigation measures that will allow our work here to continue effectively and efficiently, without any major disruption.
"Airbus is fully committed to its site at Filton which is a global centre of engineering and design excellence.
"This is clearly illustrated by our recent decision to build a multi-million pound business park at Filton and the continued investment in state of the art facilities such as the A350XWB Landing Gear Test Facility."
Related Internet Links
The BBC is not responsible for the content of external sites.