Bristol taxis not painted blue to be taken off road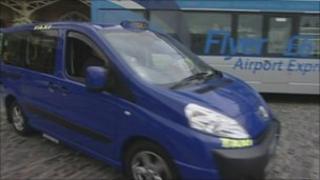 More than 200 Hackney cabs in Bristol could be taken off the road in 10 days time unless they are painted blue.
Drivers have been given until 1 May to meet the city council's new rule. So far, 572 vehicles have changed colour with 237 still needing a respray.
The scheme was brought in so people know they are hailing a genuine licensed taxi cab.
Some taxi drivers have said the requirement is expensive and unnecessary.
Hackney Carriage driver Michael Power said it had cost him £600 to turn his vehicle blue.
"There was absolutely no necessity to spray it a different colour. Everyone knows what a black cab is," he said.
"It's a ridiculous, ludicrous thing that's put a lot of pressure on in very difficult economic times."
'Three year's notice'
Gary Hopkins, the councillor in charge of transport at the Liberal Democrat-led council, said many taxis were booked in to be painted over the next week.
He said drivers had been given three year's notice of the move and that it was legal action by some cab drivers that had delayed painting taking place.
Non-blue cabs will have their license revoked.
"I think the council gave a huge amount of notice for this," Mr Hopkins said.
"It's a significant matter of safety. People have been picked up by non-licensed cabs and it's important they're recognised not just from the front but from the back."
Three taxi drivers who objected to painting their cabs took their appeal against the decision to the city's magistrates' court, supported by the Bristol Taxi Alliance, last October.
They had argued the cost of respraying the cabs would be more than their vehicles were worth.
But they withdrew their appeal after last-minute negotiations.