Shrien Dewani detained in Bristol secure hospital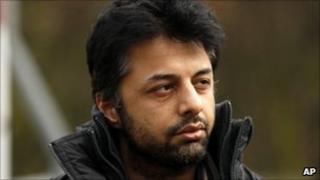 A man accused of ordering his wife's murder on their honeymoon has been detained in a secure mental health hospital, a court has heard.
Shrien Dewani, 31, from Bristol, is being compulsorily held at Fromeside Clinic in Bristol under the Mental Health Act.
City of Westminster magistrates' court in London heard he was suffering from severe post-traumatic stress disorder following the shooting of Anni Dewani.
Mr Dewani denies any wrongdoing.
Although he remains on bail, Mr Dewani will not be able to leave the hospital.
His lawyer Julian Knowles told the court: "Security is effected by staff, he has no ability to leave."
Extradition hearing
Mr Dewani was admitted to Fromeside after he was removed from The Priory when, according to staff, his behaviour became disruptive and aggressive.
South African authorities are seeking to extradite him for his alleged part in the killing of Mrs Dewani, 28, in Cape Town in November.
Mr Knowles indicated Dewani's legal team would fight this on the grounds of his poor mental health and prison conditions in South Africa.
District Judge Howard Riddle renewed Mr Dewani's bail, agreeing that Fromeside's secure environment meant his electronic tag was no longer necessary.
A full extradition hearing will begin on 3 May at Belmarsh magistrates' court in south east London.
The hearing will be split into two parts, with further time allowed for a psychiatric report on Mr Dewani's condition to be carried out.
Further investigation
Mrs Dewani, from Sweden, was shot when a cab the couple were travelling in was hijacked.
Her body was later found in the abandoned car. Mr Dewani had been released unharmed.
Mziwamadoda Qwabe, 25, and Xolile Mngeni, 23, are charged with murder, kidnapping and robbery with aggravating circumstances.
The trial in South Africa of Mr Qwabe and Mr Mngeni has been postponed until 1 June for further investigation.
Taxi driver Zola Tongo, 31, from Bothasig, Cape Town, has been sentenced to 18 years in jail for murder, kidnapping, robbery with aggravating circumstances and perverting the course of justice.