Laurie Lee's typewriter fetches £680 at auction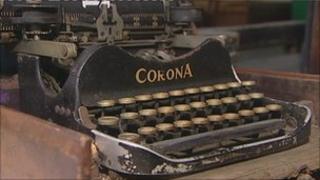 A vintage typewriter which belonged to the author Laurie Lee has sold at auction in Gloucestershire for £680 - 10 times its estimated price.
Lee's widow Kathy put some of his belongings up for sale, including the Corona travelling typewriter, after a clear out at the couple's home in Slad.
It was sold to a bidder from Leamington Spa, Warwickshire.
Lee's novel Cider With Rosie, published in 1959, is set in Slad and has sold more than six million copies worldwide.
Mrs Lee was said to be "delighted" as it had been expected to fetch between £40 and £60.
Philip Taubenheim, from Wotton Auction Rooms, said: "To own and sell something which belonged to a Gloucestershire hero is a privilege.
"It would have been very much a working typewriter. We don't know if he wrote Cider With Rosie on it.
"But he's bound to have banged out something on it. It's a lovely thing to own."
Laurie Lee died in 1997. He is buried in the churchyard in Slad.