Bath road painted with 'abstract' double yellow lines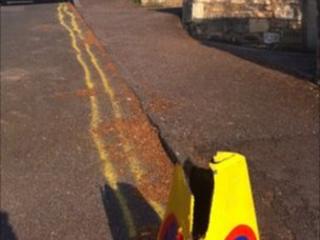 A set of wiggly double yellow lines have appeared on a road in Bath.
Council workers painted temporary lines in Gay's Hill and Pera Place, which were then extended illegally by a member of the public at the weekend.
The "abstract" lines, which are about 9m (30ft) long, remain but the temporary lines painted by the council have been removed and repainted.
Bath and North East Somerset Council said they often draw temporary lines before permanent lines are painted.
Kelvin Packer, the Conservative-led council's highways manager, said the matter had now been investigated.
'Wonky line'
He said: "The contractor has been back to the site and has now painted a number of permanent markings including the temporary lines set out by the council.
"The mysterious wonky line was not painted by a member of council staff and the council's contractor will be asked to attend to that unauthorised marking."
A spokesman for the council said: "We are certain that the wiggly lines have been painted on the road illegally by a member of the public.
"If anyone suspects that single or double yellow lines have appeared unofficially on any road, they should contact the council."
Resident Bryn Dineen said the road was often used for parking but motorists were now obeying the lines.
"Parking is Bath's personal hell and that road used to be a godsend as everyone used to be able to put their car there.
"But now there's absolutely no chance of it with those abstract lines that have been added.
"The yellow lines are really skinny and it's like the kind of paint you would use if you were marking out a plot in the garden."