Bristol University students worry over planned fee rise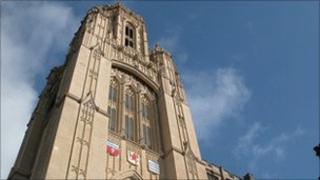 Students at Bristol University say they are concerned at the impact of proposed changes to fees.
The university announced on Tuesday it would charge the maximum £9,000 per year tuition fee from 2012.
A statement from the university said the increase in fees would substitute money which had been lost through cuts.
The president of the students' union, James Ashton-Bell, said it was "unfair" that fees would be three times higher than at present.
"Many students struggle to pay for rent, bills and food in the face of VAT and inflation increases," said a Students' Union statement.
Under the proposals some students from poorer backgrounds will pay less while others could have their fees waived.
Students who come from families whose income is more than £25,000 a year will be charged the full amount for tuition fees.
Rental costs
The union said they were worried about some people in "modest income brackets".
"Many of these students already arrive at university to find their loans and grants don't even cover their rental costs," it added.
The university said it needed to charge higher fees to make up for cuts in grants.
"Our calculations show that we would need to charge a fee in the region of £8,000 a year just to make up for the cuts in the core teaching grant and capital allocations.
"Our student support package will add a further £1,000 a year to this.
"Thus our decision to charge up to £9,000 per year does not represent a sudden or substantial increase in our funding; it merely substitutes lost revenue from other sources."
The proposed fees are subject to approval by the Office for Fair Access.
A number of other universities have already announced they intend to charge the full £9,000, while a BBC survey has found nearly half of all English universities plan to charge the highest figure.