Pieminister announces plans to move to south Wales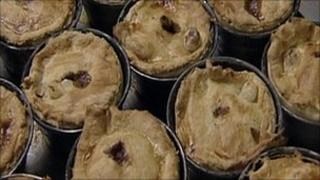 Bristol pie-maker Pieminister has revealed plans to relocate its factory to south Wales, along with 35 jobs.
Company co-founder Tristan Hogg said the lease at the Brentry site runs out in early 2012 and the owner has put it up for sale.
He said production is likely to be moved to a fully-equipped existing factory in Llantrisant, about 50 miles away.
Staff who decide not to relocate will be at risk of redundancy, he said.
Some 35 jobs out of the 85-person team are planned to be relocated to Llantrisant.
"Pieminister will therefore be holding meetings with all relevant staff over the coming month," Mr Hogg said.
He said the owner of the factory site, United Bristol Healthcare Trust, did not want to continue renting it out.
'All alternatives'
"Myself and the rest of the board at Pieminister have known about this for some time and have put much effort and time into trying to secure a purchase of our current site at a price which makes sense for us to buy at," he said.
"At the same time as negotiating the purchase we looked at all alternatives to try to retain the production facility within the Bristol area.
"We also looked at every other option available to us, from finding or building a new site in or around Bristol, or outsourcing our products to another business, or moving further afield.
"In March of this year we realised that for a great number of reasons the purchase of the current site is not a financially viable option for us.
"To purchase the site would put too much financial pressure on to Pieminister, particularly at a time when running a business sustainably is tough."
Set up in Bristol in 2003, the company now produces 15,000 pies a day.
Mr Hogg said: "We're immensely proud of our Bristol roots and have done everything we can to keep production as near to the city as possible.
"Apart from the production staff, the rest of the business will work together in one central office in Bristol."