Bristol family in tree house demolition warning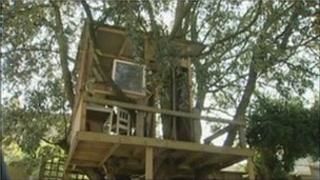 A tree house in Bristol is facing demolition after a council warned it would require planning permission to stay there.
It comes despite the tree being home to a tree house for more than 20 years.
Owner Hamish Beeston said: "It is upsetting that we've been asked to take it down."
A Bristol City Council spokeswoman said they had received complaints that "the tree house is in a conservation area and is highly visible from the road".
The council warned that because the tree house in the Cotham area was not of a good enough quality any application for planning permission was likely to be refused.
'Formal action'
Mr Beeston, who has two children aged nine and six, said: "It seems that there's an awful lot of other things planning-wise, architecture-wise in Bristol and this area that you could complain about more than a tree house."
He said there had been a tree house there for almost 25 years but the current structure was built three years ago.
Mr Beeston has set up a Facebook campaign to keep the tree house, which has attracted support from 70 people so far.
The council said that the owners would be "required to move the tree house within one month".
"If the tree house is not removed formal enforcement action will be taken," it said.