Four in court over Bristol street clashes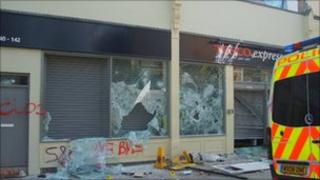 Four people have appeared before Bristol magistrates in connection with a disturbance in the Stokes Croft area of the city.
Protests broke out after police raided a property occupied by squatters on Thursday.
One of the men faces charges of possessing a petrol bomb and threatening property. Another was accused of violent disorder and the third with assaulting a police officer.
A woman was charged with affray.
Avon and Somerset Police said the squat was raided because they feared a newly-opened Tesco Express store nearby was to be petrol bombed.
'Violent clashes'
Eyewitnesses said police fought running battles with hundreds of protesters on Thursday night and the early hours of Friday.
The Tesco shop was attacked and the facade destroyed.
Nine people were arrested and eight police officers hurt during the clashes.
Five people are still being questioned by police.
More than 160 officers were involved in the operation, including 66 from neighbouring forces.
A spokesman for Bristol City Council, which owns the three-storey property being used by the squatters, said they had asked the occupants to leave.
Council spokesman Peter Holt said the building, known locally as Telepathic Heights, had been dilapidated for about 10 years.
Mr Holt said the council had recently compulsorily purchased the building due to its condition.
He said the authority had not deemed it necessary to apply for a court order to evict the squatters because staff had spoken to them and they had agreed to move out.
Mr Holt added: "What was behind Thursday's event was nothing to do with trying to clear out the squatters.
"It was entirely police led, based on intelligence they had received. It's coincidental that we had just compulsorily purchased it.
"We want to sell it on to someone who will do something useful with it."