Author in talks to bring Bath detective to small screen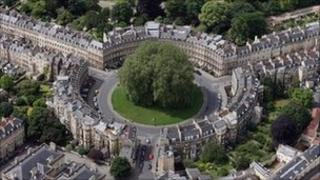 The city of Bath could soon be seen on the small screen in its own television detective series.
Crime writer Peter Lovesey, who has based his Peter Diamond novels in the city for 10 years, is in talks with the Bath Film Office about the idea.
He said discussions to develop his books were at an "early stage" but he was optimistic about the outcome.
A spokeswoman for the film office said they had taken the "terribly unusual" step of taking up his book rights.
Spokeswoman Jenni Wagstaffe added the deal on the Peter Diamond books was for a "limited time" but she hoped it would lead to a television deal and, in turn, an increase in tourism in the city.
Some of Mr Lovesey's work has already been televised, with his first books made into a drama in the 1970s by Granada Television.
"I had a series years ago called Cribbs that went out on Sunday nights but that was only a one hour show," he said.
"In those days they managed to confine things to a single hour and they used up my books very quickly indeed."
Theatre superstition
Mr Lovesey's latest book in the Peter Diamond series, Stagestruck, is based at the Theatre Royal in Bath.
His love of theatre and its superstitions provided him with the ideal inspiration for a murder story.
"The theatre is ideal because it's sort of that closed setting as well," he said.
"The superstitions, [for example] the tortoiseshell butterflies - when they appear it's a wonderfully good omen but when you see a dead one, it's not good news."
Mr Lovesey has also worked as a story consultant for television drama series Rosemary and Thyme, starring Felicity Kendal and Pam Ferris.
His novels and short stories have won him a number of awards, including the Cartier Diamond Dagger Award for lifetime achievement in crime writing in 2000.