Bristol's 700-year-old Domesday Oak tree future secured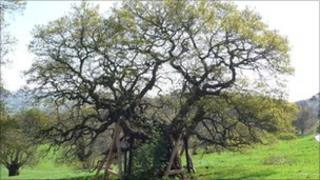 A 700-year-old oak tree in Bristol's Ashton Court Estate has undergone work to help preserve it.
A large crack appeared in the fragile Domesday Oak's trunk earlier this year when a supporting cable failed.
Five new beams, designed and fitted to support the trunk and key branches and encourage growth, have been installed on the tree.
The A-frame beams are made from green oak which will turn grey over time to blend in with surroundings.
The tree's props, secured by specialist tree officers from Bristol City Council and local business Westwind Oak, are expected to last at least 100 years.
Westwind Oak's managing director, Rupert Newman, said the oak "needed the tree props quite quickly because it had developed a bad split."
"It was a bit of a challenge because it had to fit almost perfectly but we couldn't actually touch the tree because it's so ancient," he added.
The Domesday Oak is one of the top 50 UK jubilee trees, which were identified in 2002 in honour of the Queen's Golden Jubilee