More staff at Bristol firm Braby are made redundant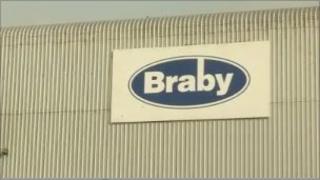 Twenty more staff at struggling Bristol manufacturing firm Braby have been made redundant.
The firm, which was founded in 1839, was put into administration in April when 27 of its 53 staff were laid off.
The business, based at Ashton Gate, makes silos and tanks for food and pharmaceuticals firms.
Administrators Grant Thornton said Braby had got into problems because other firms had not been spending as much on large items.
Only six staff are now left working at the site which administrators are hoping to sell "as a going concern".
The decision means the business is being "mothballed" while a buyer is found.
Nigel Morrison, from administrators Grant Thornton, said several potential sales had fallen through.
"Regrettably we have had to make the decision not to recommence full trading at Braby during the administration.
"We have not been able to agree terms with the customers of two major contracts which we hoped to be able to complete over the next six weeks.
Mr Morrision said the remaining six staff would help with "realising assets and administrative duties".