BrisFest could return to Ashton Court in 2012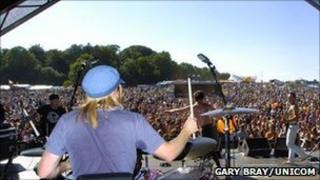 A volunteer-run community festival in Bristol will be held on the Ashton Court estate next year if 10,000 people buy tickets before 31 December.
The Bristol Festival, now known as BrisFest, replaced the Ashton Court Festival after it folded in 2007.
It has since been held annually in the city's Harbourside area, but organisers hope to see it return to the estate in September 2012.
If not enough of the £30 tickets are sold the buyers will be refunded.
BrisFest spokesman Oliver Mochizuki said they were aiming for a capacity of 20,000 with more tickets released closer to the event.
'Learning from pitfalls'
"We're aiming to revive the spirit of the old Ashton Court Festival, its friendly atmosphere and volunteer-led enthusiasm, but with a little BrisFest thrown in," Mr Mochizuki said.
"We've been in communication with the council and the organisers of the previous Ashton Court Festival, learning from the pitfalls, and have the support of many community groups and musical organisations across the city."
Ashton Court Festival ran for 33 years until its organisers, not-for-profit company Bristol Community Festival, went bankrupt.
The second day of the two-day event was cancelled because of poor weather in 2007, leaving an unsustainable financial loss.
Mr Mochizuki said the 2012 festival would cost about £600,000 to stage.
The Bristol Festival Community Group, which organises the event, came together in 2007 in a bid to ensure the survival of a community festival for the city.
A two-day event, attended by some 14,000 people, was held in 2008.
The festival expanded to three days in 2009 and 2010, when visitor numbers grew to 16,000.
The fourth event will be held from 23 to 25 September this year.