Unison says Wiltshire Council chief's 'pay rise unfair'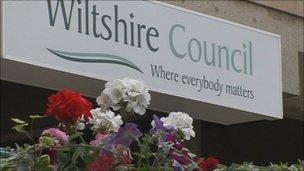 It is unfair that the Wiltshire Council chief executive has taken a pay rise while the salary of staff remains frozen, the Unison union has said.
Andrew Kerr has taken his annual incremental salary increase this year, the council has confirmed.
The authority has not disclosed the exact details, but said his pay will remain in the same pay bracket of between £183,000 and 189,000.
The Conservative-run authority is making £99m of savings over four years.
Some 220 managers took voluntary redundancy and left by the end of March this year.
Mr Kerr, a former athlete who represented Great Britain in the 400m, began his job as chief executive in February last year.
Gavin Brooks, from Unison, said: "We've already seen a number of redundancies occur within the council so clearly not all the jobs are being protected.
"Our members have now entered their third year effectively of a pay freeze.
"I think for them to be in that third year and hear that someone earning as much as that is still getting an increase, they're going to be asking themselves whether or not this is really a case of all being in it together."
In a statement, a Wiltshire Council spokesman said the chief executive's salary band had not been increased.
"The band is £183,000 to £189,000 and this was agreed unanimously by council members," the spokesman said.
"The maximum salary that the chief executive can earn is £189,000. There has been no change to this salary band and no change is intended."
Related Internet Links
The BBC is not responsible for the content of external sites.