Another record year for Bristol's 10k road race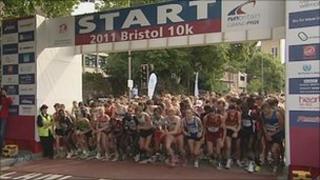 A record 11,200 runners signed up to the fourth Bristol 10k road race, which saw the Kenyans scoring a double victory for the second year running.
Thousands of people lined the city's streets on Sunday to cheer on entrants.
Edwin Kiptoo won the men's race with a time of 28' 39". Phil Wicks was best of the British in fourth place.
Edwina Kwambai came first in the women's race at 32' 29", with Bristol's Claire Hallissey taking silver on 32' 36".
St Peter's Hospice and children's charity COCO hope to raise thousands of pounds in sponsorship money.
Although a record number entered, about 9,000 crossed the finishing line.
Race director Georgette Van Hoof, said: "It's amazing that race numbers have more than doubled in just four years.
"The take up is a reflection on the quality of the race and the opportunities it offers both elite and novice runners."
A number of roads were closed for the event.