Problems hit Bradley Stoke night light switch-off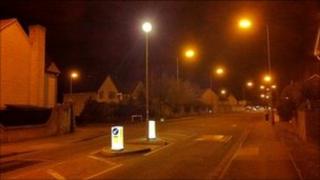 A project to turn off street lights in Bradley Stoke after midnight has been halted after some began to malfunction earlier this month.
South Gloucestershire Council has moved 2,000 lights to the new switch-off times across the entire district.
But the council said the roll-out was being halted in Bradley Stoke because some lights were operating erratically.
"We are liaising with our suppliers to establish why this fault occurred," an e-mail obtained by the BBC said.
The lights did not operate properly on five nights from 28 April until 2 May, something South Gloucestershire Council said had happened in other areas of the South West.
"We have been monitoring the operation of the lights carefully in the days following the issue coming to our attention," the e-mail added.
"We can confirm the malfunction has corrected itself and the equipment appears to be operation normally now."
The e-mail went on to say the council was "delaying the roll-out of the next phase" of the switch-off "until we can determine the cause of the malfunction".
The council confirmed the scheme was on hold in Bradley Stoke and was currently working correctly in Charfield, Frampton Cotterell, Thornbury and on the ring road.