Film aims shows dangers of hot drink burns on children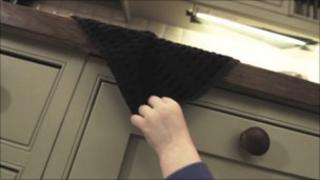 A new film has been made which warns parents in Bristol about the dangers of hot tea and coffee spills scalding young children.
North Bristol NHS Trust said two a week - 40% of the total of children with burns - are treated at Frenchay Hospital for scalding from hot drinks.
The hospital's burns team said they wanted to raise awareness.
Dr Amber Young: "Hot water can scald for up to 30 minutes after it is boiled and scalds can happen in seconds."
She added: "Burn injuries from hot drinks are entirely preventable and that is why we wanted to make this film to highlight the dangers.
"It is a shocking film but we wanted to show the damage that can be done to a child by a simple cup of tea so that people think twice about how they handle hot drinks around children."
The film, which has been posted on YouTube, has already been watched more than 1,500 times.
The trust hopes the film will also be shown in GP surgeries, health centres and schools.
The make up showing the scarring was provided by artists from the City of Bristol College.