Lib Dems enter Bristol Free School places row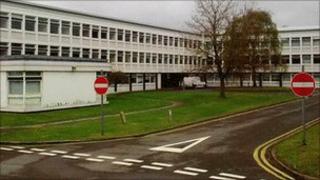 A row has broken out between council leaders and a school trust after 35 Bristol children were left without a school place this September.
The children, who are currently at Oasis Westbury School, were hoping to enter the new Bristol Free School.
Blair King, chairman of the school's trust, said it had never promised the children a place.
But Liberal Democrat council leader Barbara Janke said she was disappointed the trust had "changed its story".
Primary academy
Councillor Janke and Councillor Clare Campion-Smith, cabinet member for children, both Liberal Democrats, said in a statement: "Why have they left it until now? The Free School Trust previously told us they would accept these pupils.
"Their story last month was that they needed decisions about the St Ursula's site made quickly so that they could look after these children. Now they are telling a completely different story.
"How can we deal with people who constantly change their story in this way? Where will it end?"
Some of the children, all aged between 12 to 16, had previously attended St Ursula's before the private school got into financial difficulties.
It was bought by Bristol City Council for £1.95m and replaced by Oasis Westbury on a one-year deal.
That school is now to be replaced by a primary academy run by E-Act and Bristol Free School, which will only be taking year 7 children.
Bristol Free School only confirmed it would be opening on 16 May after final approval from the government.
Mr King said: "What we always said we wanted to do was to take on those children if at all possible.
"The situation is that if we take on just the legacy children from Oasis we open ourselves to legal challenge from children across the area.
"We've never made any promises. We never guaranteed places. Promises have been made by Oasis and Bristol City Council."
The trust said it was investigating the possibility of opening a separate private school at the old St Ursula's just to accommodate the 35 children who had been hoping to enter years 8 to 11.
But the councillors' statement said this was news to the council, which owns the site.
"For any larger development than the current school buildings there, there will have to be planning permission," it said.
"Until that planning permission is given, any arrangement the trust may choose to make for a separate private school for the Oasis children they cannot place in their own school will have to use the Defra site in Brentry - not the St Ursula's site."