E. coli cases at Redfield Edge Primary School confirmed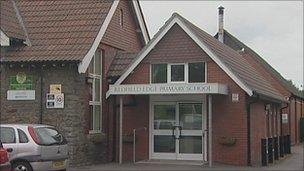 Seven cases of E. coli have now been confirmed at a school near Bristol.
Redfield Edge Primary School was closed on 20 May after three children became ill. Parents have reported 28 other children with vomiting and diarrhoea.
The Health Protection Agency (HPA) said the infection had started spreading among older children.
The source of the infection is still unknown and the school is being deep cleaned while it is closed.
The HPA said there was no evidence the outbreak was linked to food served in the school.
The HPA spokesman said that of the three children who received hospital treatment, two had been discharged but one of those had since been readmitted.
A decision is to be made next week on whether the school can reopen after half term on 7 June, the spokesman added.
The agency said it was also aware of diarrhoea and vomiting in children from neighbouring schools - St Barnabas Primary School in Warmley, and Sir Bernard Lovell School in Oldland Common.
But it said there was no evidence that these were connected to the Redfield Edge cases of sickness.
Dr David Hunt, from the HPA, said: "Testing is under way and currently there is no indication that these are linked to Redfield Edge, but we are keeping the situation under close review.
"At any time of year we would expect to see a variety of gastrointestinal bugs, such as norovirus, causing some milder illness in school settings."
The HPA has advised parents if they are concerned about a child's symptoms to contact their GP.
Related Internet Links
The BBC is not responsible for the content of external sites.