Bristol City FC stadium dispute costs council £57,000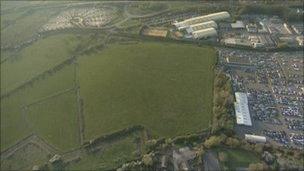 Bristol City Council spent almost £57,000 on mediating a dispute over a proposed football stadium in the city.
It paid a mediation firm to sit in on talks between Bristol City Football Club and residents, who failed to reach agreement on the Ashton Vale plan.
A Freedom of Information request revealed the two parties met 26 times, costing a total of £56,983.25.
The council said it was disappointing no agreement was reached. A decision on the plan is expected in June.
A spokesman for the council said: "It was an important process which both parties took seriously, as can be seen by the number of meetings over a short space of time."
The club wants to build a new 30,000-seater stadium at Ashton Vale.
But the residents have claimed the site - which is owned by Bristol City owner Steve Lansdown - is used as a recreational area and want to protect it by gaining town green status.
Following an application by residents, an independent planner recommended the area be registered as a town green, preventing new development.
The council has already approved the planning application for the stadium and will now take the final decision on the town green application.
The spokesman said: "Clearly it was disappointing they were unable to come to agreement through mediation, but the council is determined to press ahead and has set a date for the Public Rights of Way and Greens Committee to meet on the 16 June."
The committee will discuss the independent recommendation but could also refer the plans to full council which next meets on 21 June.
Approval would mean the 42-acre site would be protected from development - and would thwart the club's plans.
The new deadline for the decision was bought to a head after the Liberal Democrats lost seats in the May local elections.
The Conservatives and Labour would only back the party as a minority administration if they made concessions over the Ashton Vale decision.
Related Internet Links
The BBC is not responsible for the content of external sites.