Bristol gang jailed over Weston hostage robbery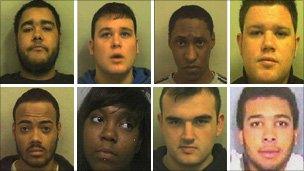 Eight members of a Bristol-based gang who held a family at gunpoint in the mistaken belief they had drugs in their home have been jailed.
The armed robbery happened in Weston-super-Mare in March 2010 as the victims were watching television.
Some gang members admitted their part in the incident and others were found guilty at trials earlier this year.
Two were jailed for 16 years, two for 14 and the remainder for between 15 months and eight years.
The court heard Stewart Cole, his son Liam and a family friend were watching TV when the gang, wearing balaclavas and a crash helmet, burst in.
After demanding drugs and money, they ransacked the house, then left with cash, phones, watches and computer equipment.
A key witness was later kidnapped, imprisoned and intimidated.
Gang leader Ashley Pritchard, 22, of Easton, Bristol, Jack Jones, 21, of Weston-super-Mare, Wesley White, 24, from Bristol and James Fillingham, 23, from Weston-super-Mare earlier pleaded guilty in relation to the case.
Jamie Viera, 24, of St David's Crescent, Bristol, Leon Duncan, 25, of Chelsea Park, Easton and Alex Fillingham, 21, of Chesham Road, Weston-super-Mare were found guilty in March this year of conspiracy to rob and possession of a firearm with intent.
Marissa Campbell, 23, of Norfolk Buildings, Bath was found guilty of false imprisonment.
Pritchard and Viera were each sentenced to 16 years in prison.
Leon Duncan and Alex Fillingham were both jailed for 14 years.
Jones was sentenced to eight years, Campbell to five years, White to three-and-a-half years and James Fillingham to 15 months.
Sentencing the gang, Judge David Ticehurst described the robbery as "unexpected and terrifying" and the false imprisonment was to "avoid prosecution and conviction".
He added that the "terrorising nature" of of the armed robbery had caused the victims to lose their homes and lives.
After the hearing, Insp Simon Wilstead said: "Combating firearms and knife crime remains an absolute priority for the staff of the Serious and Organised Crime Group and for Avon and Somerset Police.
"We can only achieve results such as this with the help of all our communities. I would like to thank the victims in this case for the bravery they showed in giving evidence.
"With their help and the combined efforts of the criminal justice system what we have seen today are some strong deterrent sentences handed out."
Related Internet Links
The BBC is not responsible for the content of external sites.